Integrate Failed Payment Recovery
Add powerful strategies to retain more subscribers
No matter your recurring payment setup, adding FlexPay will enhance the collaboration between all your payment
systems to maximize failed payment recovery and customer retention.
FlexPay creates unique payment recovery strategies, working within your payment stack to protect against churn and retain the full customer lifetime value
How integrating with FlexPay works


Your 3rd party CRM upgraded with strategic authorization management
Your CRM or subscription management system needs to route details about the failed transactions and customer status to FlexPay for recovery via API. Most CRMs can be integrated with FlexPay.
Your gateways - working harder for more approvals
FlexPay listens to gateway responses and works in tandem with the gateway to improve authorization performance. We're integrated with most gateways and can quickly add new ones.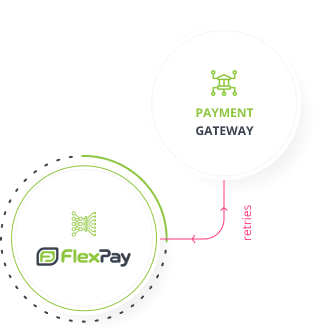 Your custom CRM - with 70% more recovered payments
Adding a dedicated failed payment recovery solution will bring in more revenue that could ever be achieved with simple retry technology. Our experts support your in-house team to easily connect FlexPay's AI-powered failed payment recovery solution to your specialized CRM system.
Ready to add FlexPay to your payment stack?
Leave your email below to get started.
Frequently Asked Questions
Is your payment stack unique? We've seen it all!
Speak to one of our specialists today to learn what to expect
during implementation.